Springer Rescue Scotland
Springer Rescue for Scotland rescues and rehomes Springer Spaniels across Scotland and beyond, promotes the welfare of Springer Spaniels in Scotland and encourages responsible dog ownership. Read more..
In the spotlight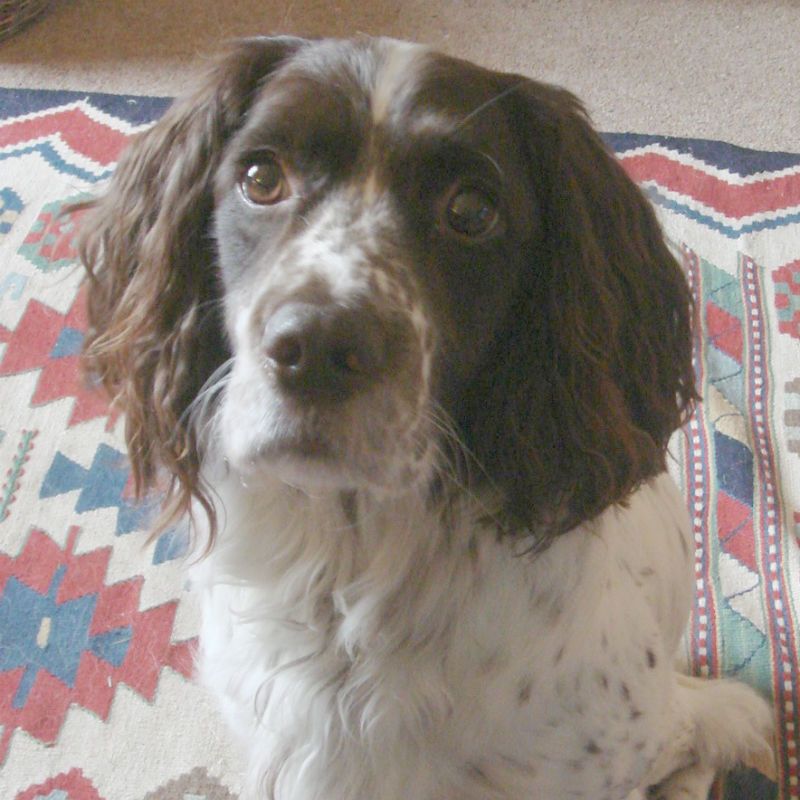 Hi everyone. My name is Lennon and I am 8 years old. I have lots of energy and I love my cuddles!! I do have some issues though. I don't cause trouble on purpose, it just seems to happen! I like to guard my things because I like to think everything is mine, if you try and take it, I might be liable to snap. My foster mum is working on this though with me and keep things out of the way.
Read more...
News
February 2015
2015 has got off to a flying start with 14 dogs rehomed by SRS up to the middle of February. We continue to work hard to look after all the dogs who come into our care and keep in touch with all our families who have taken on an SRS dog. You can read some of their heart-warming stories on our Happy Endings page.
---
Special Offer: Crowbank Kennels
Crowbank Kennels in Cumbernauld are very kindly offering a discount to anyone who adopts an SRS dog. These kennels come highly recommended by SRS Trustee Mary Hanney. See offer below:
"With respect to people adopting Spaniels, we are happy to offer one night off their first short booking (2-6 nights), or two nights off their first long booking (7 nights or more)."
Fiona and Eran Yehudai, Proprietors
Crowbank Kennels and Cattery
tel: 01236 729454
---
Newsletter
The Winter 2014 issue of the SRS Newsletter is now available packed with with information, features and advice. Download your copy by clicking on the image below.
You can still download earlier editions: Summer 2014, Winter 2013, Summer 2013, Spring 2013, Winter 2012 and Summer 2012
---
2015 Calendar
REDUCED PRICE: SRS CALENDARS NOW ON SALE!!! You can still buy a 2015 SRS calendar, but now for a reduced price of £4 each plus postage and packaging.
Postage & packaging costs (for delivery in the UK):

Single calendar £1.20,
2-3 calendars £1.50
4-5 calendars £2.00
5+ or overseas deliveries by arrangement.



Payments should be made via paypal (www.paypal.com/uk) to donate@springerrescuescotland.org (please make sure the payment is marked as personal and include your details (name, address and how many calendars you have ordered).

Alternatively you can send a cheque made payable to Springer Rescue for Scotland to:

Gail Grant, 8 Cornhill Terrace, Edinburgh EH6 8EL.

If you have any queries, please email .
---
SRS Online clothes shop
We are pleased to announce that SRS has teamed up with Malamute matters to offer an online facility for purchasing SRS clothing such as polo shirts and hoodies. Click on the link for more details and how to order. Online Shop
---
Can you volunteer for SRS? As well as foster carers, we also need people who can help out in other ways: if you are good at admin, like organising or have internet or Web skills we would love to hear from you. If you can help please do get in touch through or fill out our online volunteers application form at the SRS Website
---
You can keep up to date with all our activities on our Forum and our Blog and we are on
Facebook and
Twitter too!
---
SRS are proud to be sponsored by TransK9, makers of quality kennel and dog transit products.
---
Events
SRS completed a full programme of events in 2014 and we will be planning lots more in 2015. Watch this space for news of the new programme. Find out more